The following is a list of massage techniques that I commonly use in my sessions. I sometimes use just one technique, but generally I blend several styles together to create a personalised treatment. It is often helpful to learn some massage techniques of your own so the you can give and receive massage with your loved ones in between professional treatments.
               Swedish Massage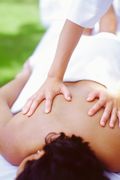 Swedish massage technique (also known as classic massage is the traditional 'feel-good' type of massage.  It is oil-based, and uses long gliding strokes, kneading, pressing, stretching, and gentle pounding affect nerves, glands, muscles, and circulation.
Deep Tissue Massage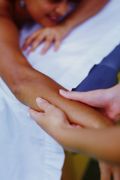 Deep Tissue massage is another oil-based method which concentrates on certain areas of the body, and moves very slowly, addressing the deep, underlying layers of muscle tissue, tendons, and fascia.  It is great for helping to relieve chronic pain and tension, and is also very effective for scar tissue healing.
Traditional Thai Massage / Bodywork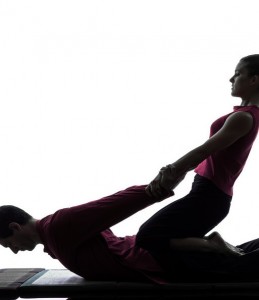 Often dubbed 'Yoga for Lazy People,' Thai Massage uses pressure along energy lines (called 'sen') combined with yoga-like stretches to help allow the flow of necessary energies throughout the body. It is based largely on the Indian tradition of Ayurveda, with also some similarities to Chinese medicine. It is traditionally performed fully clothed on a mat on the floor.
                              Signature Combo Thai – Swedish Deep Tissue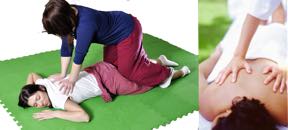 Combines the best of Thai massage with Swedish/Deep Tissue techniques –rhythmic pressing and stretching, performed clothed on a mat on the floor combined with Swedish / Deep Tissue techniques on the back and neck, incorporating organic lotion and aromatherapy if desired. Great for full bodywork relaxation plus therapeutic work on one or more areas.
Foot Reflexology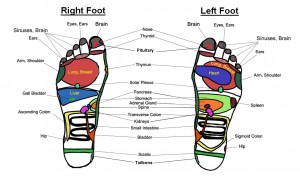 Foot reflexology involves pressing reflex areas on the feet. These areas correspond to organs and systems of the body. Foot Reflexology cleanses the mind and body and revitalizes energy. A common theory of reflexology holds that massaging certain areas of the feet restores health by breaking up and dispersing "crystals". I generally combine reflexology with a general foot massage technique to leave both you and your feet feeling wholely refreshed. For a free printable foot massage chart, go
here
. You can also find a link to an ear reflexology chart, a reflexology hand chart, and a foot massage video.
Pre-Natal Massage

Pregnancy massage can help ease aches and pains caused by muscle tension and shifts in body weight of expectant moms. The massage will generally take place with the woman lying on her side, bolstered up by several pillows. Moms-to-be who are on bedrest can receive massage the comfort of their own homes, in their own beds.
Geriatric Massage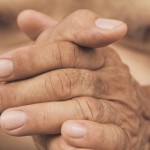 A bit of therapeutic touch is essential to the quality of life of the elderly and terminally ill. On location massage can be done fully clothed with the client in his/her own bed, in a chair, or any place that s/he finds comfortable – no massage table or special equipment is required. A combination of Swedish massage, Acupressure, and Trigger Pointmassage techniques are used, adjusted to each individual's ease of mobility and level of comfort.
Craniosacral Therapy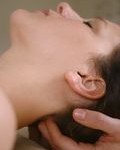 Craniosacral therapy focuses on releasing restrictions of the Cranial sutures and the underlying membranes through gentle hands-on contact with the bones of the skull, and various other areas of the body. Craniosacral Therapy has been used to treat a range of conditions, from headaches and ear infections to stroke and spinal cord injury.
Chair Massage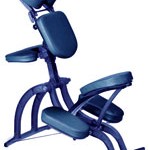 Clients remain fully clothed and receive bodywork on a specially-designed ergonomic chair. Sessions generally last anywhere from 10-30 minutes. This is especially practical for bringing massage to your special event or workplace.