April is Thai Ma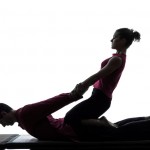 ssage month in 2014! Get 10% off either a one hour, 90-minute, or two-hour Traditional Thai Massage. For those unfamiliar with this modality, Thai massage (often called, "yoga for lazy people") is performed fully clothed on a mat on the floor. It uses pressure along energy lines (known as "sen") combined with yoga-like stretches and to work the energy flow throughout the body.
Please note that Thai massage is suitable for all body types. You do not need to be a yoga practitioner, or be flexible or agile to gain the benefits of Thai massage!
This is my favorite modality to both give and receive! Sessions are available at my home studio in Sebastopol, or at your location for an additional travel fee.